If you are here is probably because you are in a budget and/or is looking for a MIDI keyboard controller that fits in your backpack. Can't decide which controller to buy? I got you covered.
First, let's talk about what you should think about before making your decision. Are you a music producer? Composer? Keyboardist? Just starting? Just looking to have something you can take on the bus or Starbucks? All of the above?
If you are a music producer, potentiometers, rotary encoders, transport control, DAW integration, etc., are really important. While if you are a performer, full-sized good quality keys and pads, and build quality might be what to look for. But, if you are just looking for a small keyboard to carry on the road, portability might be what matters. But, no matter what you are looking for, you'll prob find in this list!
Btw, the order of this list is totally arbitrary, not based in quality or my opinion!
PS: These are affiliate links, which means that if you buy from these links I gain a small commission, this way, you help me to keep doing more posts like this. But, don't worry, my reviews are brutally honest!
---
1 – Akai Professional MPK Mini MKII
The most popular guy!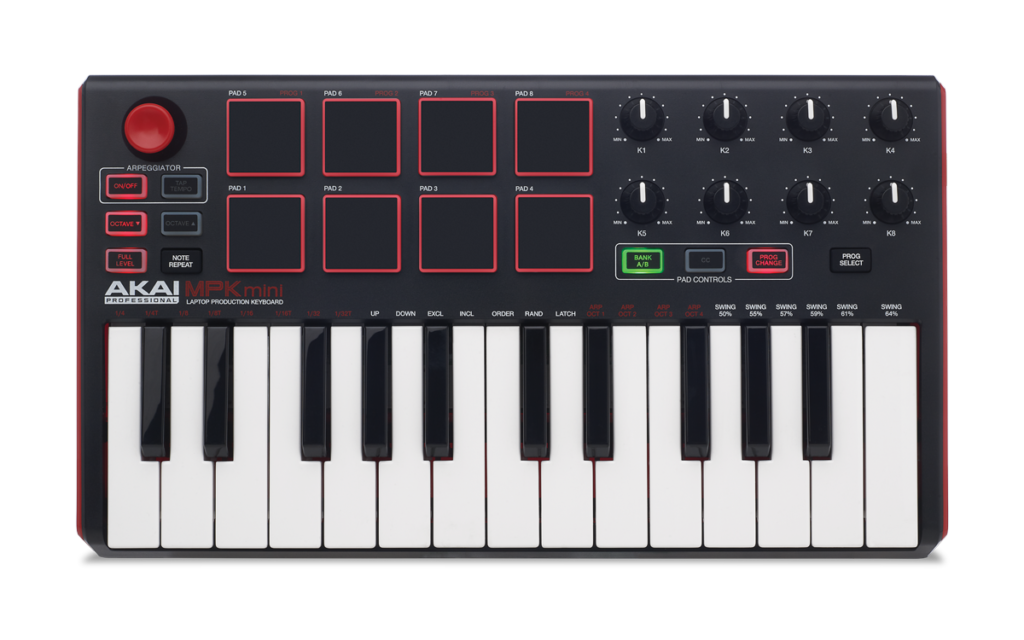 Score: 4/5
Price: $$

The Techie Stuff
25 compact keys
8 velocity-sensitive MPC pads
8 knobs for macro-mapping
4-way joystick for pitch and modulation control
Built-in arpeggiator
Octave Up/Down buttons
Software included: Hybrid 3 by AIR Music Tech, SONiVOX Wobble and Akai Pro MPC Essentials
Dimension: 7.1 x 12.4 x 1.8 inches
Opinion
The Akai Professional MPK Mini MKII is, definitely, the most popular controller in this list. One reason for its fame is its price combined with its brand because you know you are taking an Akai home.
Its design is beautiful and made of good quality plastic. I have one myself and I backpacked with it for three months in Southeast Asia and it survived with no issues at all.
One of its best features is the MPC pads, great for finger drumming, or as an extension of the keyboard. Talking about the keyboard, it's probably where it falls a little, keys are really small and the plastic doesn't feel the best. I haven't had any problem but I read some bad reviews about it.
Also, it has a great software included, but it might be a hassle to use it if you are a beginner, for the lack of tutorials on it.
Overall, I think it's a great beginner compact keyboard, not intended for serious music production or performance, but great if you need a small keyboard on the go.
Pros
Design
Price
Software included
MPC Pads
Cons
Keys are not great
Complicated included software Set up

---
2 – Midiplus AKM320
It does the job for the price!

Score: 3/5
Price: $
The Techie Stuff
32-note velocity-sensitive mid-size keys
Pitch Wheel and modulation wheel
Octave Up/Down buttons
Dimension: 460 x 125 x 30 (mm) / 18.1 x 4.9 x 1.2 (inches).
Opinion
Maybe the most impressive thing about the Midiplus AKM320 is the price. It ranges from $30-$40, which is damn cheap for a controller. But, don't let the price fool yourself, it does the job pretty well. "It does the job" should be the slogan of this controller. With not so many features, it does the job, and in a small package.
More for keyboardists, or composers, it doesn't offer many features for music production. However, it might be what you need if you want to record that idea you have in your mind, put some notes on Finale, while you are on the bus, or anywhere.
You can't expect amazing build quality and great keys for the price, though. People complain about the sensitivity of the keys, so be aware that dynamics might be compromised.
Pros
Cons
Lacks a good velocity sensitivity

---
3 – Novation Launchkey Mini MK3
The best for Ableton Live users!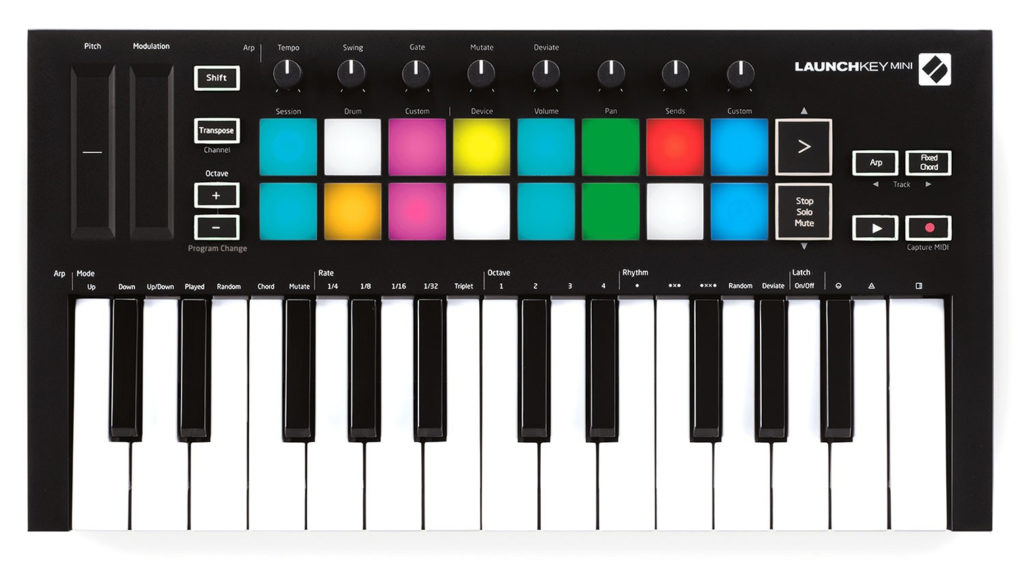 Score: 4/5
Price: $$
The Techie Stuff
25 mini velocity-sensitive keys with aftertouch
Octave shift, Transpose, Pitch and
Modulation strips,
16 velocity-sensitive backlit RGB launch pads,
8 rotary encoders
10 function buttons
Octave Up/Down buttons
Software: Ableton Live Lite, two months of Splice Sounds, AAS Session Bundle, Softube Time & Tone, Spitfire Audio LABS Expressive Strings, Klevgrand DAW Cassette and R0Verb, XLN Audio Addictive Keys, membership of Novation Sound Collective
Dimensions: 330 x 172 x 40 (mm) | 13 x 6.8 x 1.6 (inches)
Opinion
The Novation Launchkey Mini MK3 is one of the best choices if you are an Ableton Live user. Using its Ableton Live MIDI script one can take full control of the DAW without additional mapping. The pads can be used for triggering Ableton's clips in Session View, or for your typical finger drumming, and knobs to take control of your mix, efx, etc!
Construction is good, however, some people might complain of its durability, but it seems that this is a common complaint about under $100 controllers.
Pros
Ableton Live connectivity
Great arpeggiator
Cons

---
4 – Alesis V25
Great if you need full-sized keys!


Score: 4/5
Price: $$
The Techie Stuff
25 full-sized, velocity-sensitive square-front keys
8 velocity and pressure-sensitive backlit pads
4 knobs
4 assignable buttons
Octave Up/Down buttons
Pitch bend and mod wheel
Software: Includes ProTools | First Alesis Edition, Ableton Live Lite 9 and Eleven Lite, plus Mini Grand, DB 33 and Xpand 2 virtual instrument software by Air Music Tech
Dimensions: 9.6 x 24.6 x 4.5 inches
Opinion
The Alesis V25 is one of the only ones that has full-sized keys. If small keys is a problem for you you should definitely take a look in this guy. It also comes with a sweet list of software for you to start making music right away if you are a beginner!
It also has MPC style drum pads, however, if finger drumming is your thing maybe that's not your best option since they are not the best quality.
Pros
The software included
Full-sized keys
Cons

---
5 – Akai Professional LPK25
Portable and affordable!

Score: 3/5
Price: $
The Techie Stuff
25 velocity-sensitive mini keys
Octave Up/Down buttons
Built-in arpeggiator
Opinion
If your you are looking for portability and a cheap price look no further. The Akai Professional LPK25 is no larger than a laptop and is great if you are on the run and needs to record that idea, if you are on the bus, or even having a coffee at Starbucks.
As you can see, it's not meant for serious music production, that's not the goal, but if notating music or not letting that idea is what you need that's a great choice.
Have I mentioned that it has a wireless Bluetooth twin?
Pros
Portability
Price
Bluetooth version
Cons

---
6 – Native Instruments Komplete Kontrol M32
Perfect for Kontakt users!

Score: 5/5
Price: $$$
The Techie Stuff
32 compact keys
Comes with a powerful software package, including synths, basses, drums, effects – plus Ableton Live 10 Lite
Octave Up/Down buttons
OLED display and touch-sensitive knobs to tweak your sound's essential parameters in real-time
8 rotary encoders
Pitch bend and mod touch strips
Opinion
If you are a Kontakt user you can take control over your .nks instruments, and much more, with the Native Instruments Komplete Kontrol M32. Meant to be a portable version of its bigger brothers of the Komplete Kontrol line, it brings the same built quality and many of their great features but in a MIDI controller you can put in your backpack.
Great power comes with great responsibilities and also with a more expensive price, so be prepared to pay a little more for this powerful machine.
Pros
Great control over .nks instruments
Great built quality
Cons
A little pricier than the competition

---
7 – Nektar Impact LX25+
Great for performances!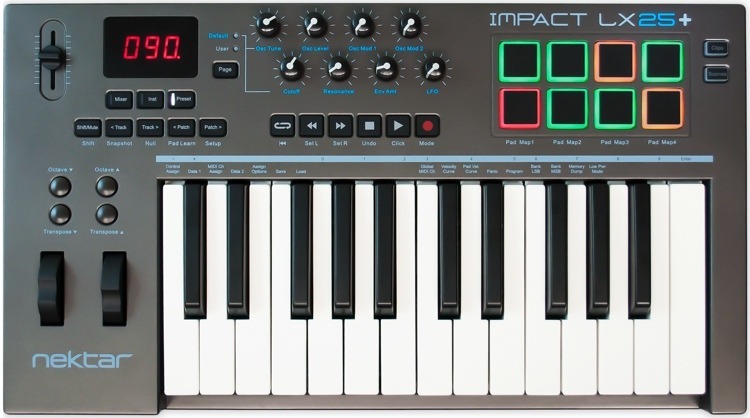 Score: 5/5
Price: $$$
The Techie Stuff
25 note velocity-sensitive full-size keyboard
Works with all MIDI music applications
8 pads for drum programming
Octave Up/Down buttons
Opinion
If you are a serious keyboardist looking for a small performance MIDI keyboard the NEKTAR IMPACT LX25+ got you covered. It has full-sized keys that promise a classic synth response and 8 drum pads with good response for finger drumming. It has mappings for 11 daws so you can take control over your production without wasting time.
Pros
Great for performances
Pro build
Cons
A little pricier than the competition

---
8 – Arturia MiniLab MkII
Pro built quality!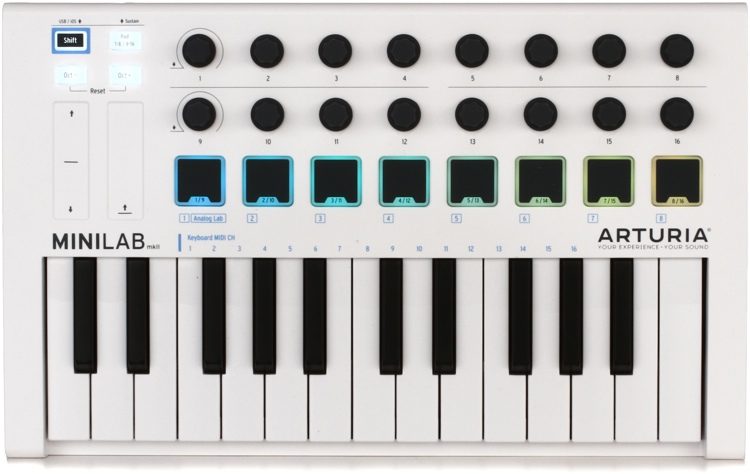 Score: 5/5
Price: $$
The Techie Stuff
25 keys
Includes Analog Lab Lite, Ableton Live Lite & UVI Grand Piano
2 banks of 8 pressure-sensitive pads with RGB backlighting
16 rotary encoders (2 of them are clickable)
2 capacitive touch sensors for pitch bend and modulation
Opinion
If you had an Arturia you know they are built to last, and the Arturia MiniLab MkII is no different. It has great built quality, great software included, 8 pads, and 16 endless rotary encoders for you to control whatever you want.
Endless rotary potentiometers are great if you want to map many different parameters in the same knob without having to "jump", or move to another position to find the current value, like normal pots, however, some people dislike not having the physical feel of where you are in your 0-127 realm. So, pick your poison wisely!
Pros
Great build quality
Lots endless encoders
Cons

---
9 – M-Audio Oxygen 25 IV
Pro controller for music production and performance!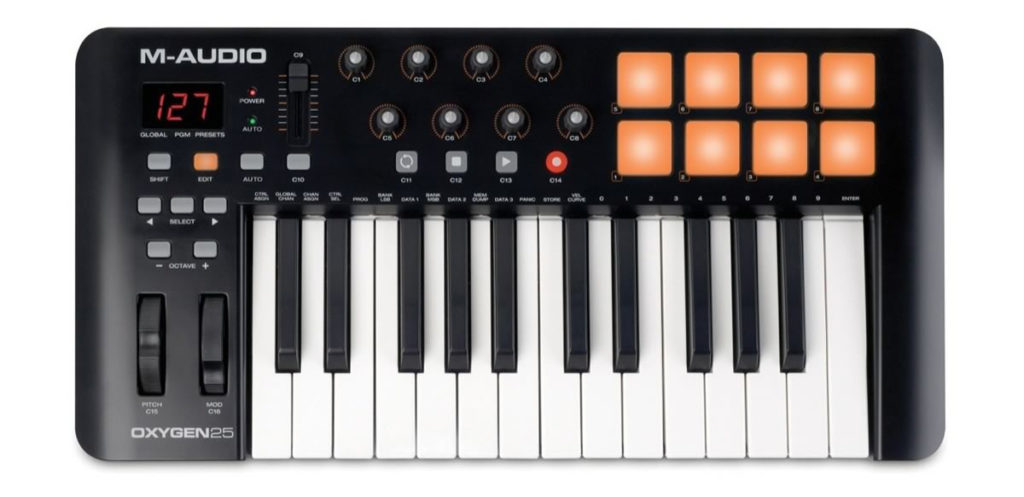 Score: 4/5
Price: $$$
The Techie Stuff
25 full size, synth-action velocity-sensitive keys
Pitch bend and modulation wheels
8 velocity-sensitive trigger pads
8 knobs
LCD screen
Octave Up/Down buttons
Software included: Ableton Live Lite, SONiVOX Twist and AIR Music Tech Xpand
Opinion
The M-Audio Oxygen 25 IV comes to the list as another pro controller for music production and performance. Also a little bit above the other controllers' price range, it comes with full-sized keys, 8 knobs for controlling your daw, and 8 pads for drumming and triggering stuff.
This controller should be an all-in-one compact solution for pro music production and performance.
There are complaints, though, about its keys quality and velocity sensitivity of the pads. Lots of people love this keyboard, but maybe it's not in the highest position in quality for this price range.
Pros
It has all you need for performance and music production
Cons
There are complaints about the quality of the keys

---
10 – ROLI Seaboard Block
The most expressive!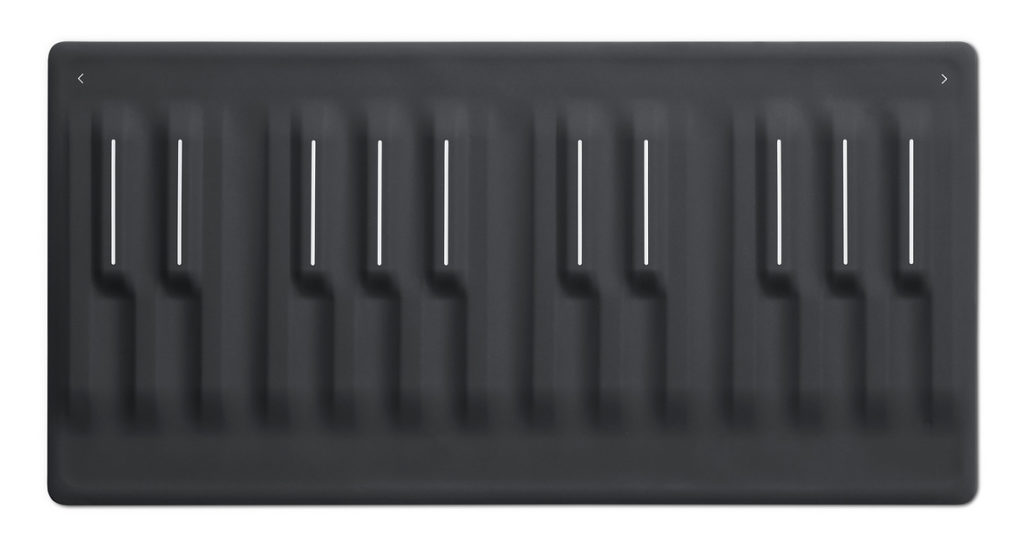 Score: 5/5
Price: $$$$
The Techie Stuff
24 keywaves, two-octave playing surface
5D Touch Technology: Strike, Press, Glide, Slide, Lift
Over 200 included sounds
Wireless and portable
Software bundle: Noise, Equator Player, Blocks Dashboard
Connects to other Blocks
Opinion
Well, although it doesn't fit in the affordable category I couldn't miss the ROLI Seaboard Block in this list. The Seaboard Block is the smallest of the family of the Seaboard keyboards, intended to be portable and a building block of this group of, am…, Blocks.
I am a fan of expressivity and Roli has its place in history for popularizing this type of MIDI controller.
It has a different type of key, a squishy one, that might give you a slower learning curve, but gives impressive expressivity capabilities. You can do vibratos in multiple keys at the same time – the MIDI Polyphonic Expression (MPE) – you can press it, go up and down, do glissandos, etc! However, its slim form factor lacks more controls, but, do you even need them?
Pros
Amazing expressivity
Great software bundle made especially for the Roli instruments
Connects with other Blocks
MPE (MIDI Polyphonic Expression)
Cons
Slow learning curve
Hard to use with other DAWs

---
My three personal favorites
For me, built quality, playability and flexibility, are the things I look for in a controller like this. For using as a music production tool, or as a second performance keyboard in live situations, it can't let me down.
If I had to choose three I'd chose the Novation Launchkey Mini MK3, the Arturia MiniLab MkII, and the Nektar Impact LX25+.
I love the Novation Launchkey Mini MK3 because of its integration with Ableton Live. I am a Live junkie and I use it a lot to make music and to perform live, so having this integration is a huge plus for me.
I am a fan of Arturia and the Arturia MiniLab MkII is solid rock. I love its build quality and its encoders and keys, however, I miss a screen to tell me the values of my encoders and having normal potentiometers.
However, the Nektar Impact LX25+ seems to be the one that gathers the most that I need. It has a good quality build, good keys and pads, pots, transport control and everything I need to perform or produce.
If I could I would create a mix of these three keyboards, plus the Roli Seaboard… :p Maybe I will!
Conclusion
So, now you have a great list to chose from to buy your portable and affordable MIDI controller keyboard. I know that choosing a new MIDI controller is a hard task, but I hope these reviews helped you to make up your mind!
If you want something else, that doesn't exist, you can always make your own, and you can learn how to make it with my course Making Music with Arduino! Here you can watch my free three classes course, and here my complete course, where I teach you everything you need to build virtually any MIDI controller!
So, now let me know which one is your favorite, or if I missed any controller in this list!